What to Prepare for Your Web Design Project?
Posted On: May 29, 2015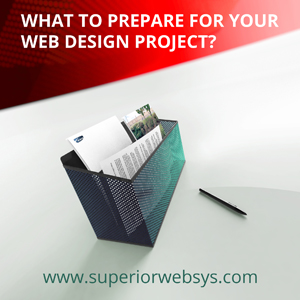 This is another question we get asked frequently by clients - "We are ready to begin! What do we need to give you to produce the website for us?"
This is a great question. In fact, it is essential for the work process to start and proceed. A web development project will require you to provide us with what you want the website to look like so we can build it exactly the way you envision it. The things a web development company will require can be easily divided into three main categories, with a few subcategories each:
Corporate Identity - Visual. This is the design of the website. Its look and feel. Combining purely aesthetic choices with considerations of corporate expression is the name of the game. Your web page visitors should get a pleasant web experience with an added effect of identity imprinting. This way your site will stand out among others in the category, and visitors will be inclined to go back and visit it again. For this you will need to bring us:
Your company colors - we will work together to use them in the best way possible
Company logo and other unique corporate / brand imagery and identity elements
Fonts - anything you already identify the business with, or just what you prefer
Website Content - Verbal. This has to do with your company history, the services or products you provide, deals you are running, success stories and other interesting things that your web page visitors will want to know, and which will aid convince them to take their business your way. Here is a full list:
List of Services - this is essential, make sure the client knows exactly what you are offering
History or About us - make it enticing, exciting, inspiring - everybody loves a good story
FAQ or Q&A section - answer questions in advance, and you will not have to, later
Testimonials - nothing reassures clients like seeing other happy clients
Website Content - Visual. This is your chance to relate the content in part 2, in non-verbal form, and it is absolutely priceless when it can be done. A client who can see a single picture of the work you do or the product you offer will not need to read a full page of text about it and will be convinced faster and surer. We will spare you the hundred year old saying, we are sure you know how it goes. It works.
Product related - photo galleries, charts, everything you have to illustrate its value
Service / product categories - putting a picture at the top of a service page is one of the best ways to make it a hundred times more understandable.
Company related - corporate events, office work culture, smiling faces, energetic workers - everything to bring the customer closer to the people behind the page.
Of course, a web page can be created without all those things, but this will get a hundred times better result, and make the process cheaper as well (no need to purchase stock imagery). It's a win-win approach, so prepare well and we will make your website shine!
Associated tags:
Web Design
,
Project
Add Comment: