Why & How to Track Website Traffic
Posted On: February 14, 2015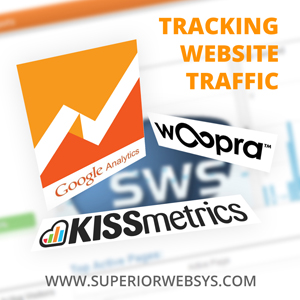 Whether your website is old or new, large or small, there's one thing you need to know about it: who's coming. Tracking your website's visitors is important for your business goals. And with the number of simple, affordable (read: free) analytics tools available, evaluating your website's traffic has never been easier.
The Importance of Understanding Website Traffic
Knowing who's coming to your website is about more than just satisfying your curiosity. It's a key element of understanding and evaluating your business's overall marketing strategy and customer relations. Website traffic can indicate the success (or failure) of marketing initiatives such as paper advertisements, trade show appearances, and online banners or pay-per-click ads. It can also help you understand who your ad campaigns are reaching.
Website analytics go beyond the simple numbers, though. They can also tell you what content is most appealing to visitors by showing you which pages visitors go to and how much time they spend there. This allows you to refine your webpages according to users' needs and interests, making it more likely you'll convert visitors into actual customers. In this way, analytics can actually help you maximize your website's return on investment.
The Tools for Tracking Website Traffic
Google Analytics is probably the most popular tool for tracking traffic to a website. It's simple to install and use, and best of all, it's completely free. You don't need any technical expertise to add Google Analytics to a website — it's as simple as creating an account and then copying and pasting a line of custom-generated code. It takes just a few minutes and costs absolutely nothing!
Other, similar analytics tools offer improved or more targeted features than Google Analytics. KISSMetrics, for example, is ideal for tracking and improving conversions. And Woopra offers real-time analytics, allowing you to see how many visitors are currently on your site and whether they're actually reading. You can even zoom in on a visitor to see what they've done on your site both during their visit and in the last 90 days.
Whether you use Google Analytics or another free or paid analytics provider, tracking your website traffic should be part of your marketing plan.
Associated tags:
Traffic
,
Website Traffic
,
Track
Comments:
custom software developers
wrote on
March 4, 2015 at 04:04
Tracking the website is the basic need of any business which informs how many visitors visits there site and numbers of completed goals. According to me google analytic is one of the best tools which informs you what your business needed to improve.
Add Comment: