Should You Meet the Web Design Team or Just the Project Manager?
Posted On: February 06, 2015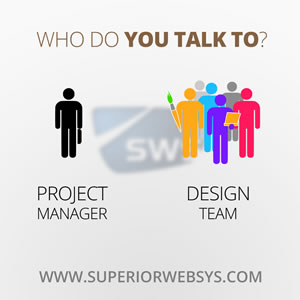 Most Web design firms have project managers — professionals who act as the single point of contact between clients and the members of the design team. This streamlines the process, simplifies communications, and provides oversight for project costs and timelines. From a client perspective, a single point of contact is easier to manage, and having someone specifically in charge of the project makes it easier to focus on the myriad other elements of running a business.
From the Web design company's perspective, appointing a project manager makes life easier for the client and ensures that everyone involved in the project receives the same direction. Plus, the project manager is responsible for keeping the project on time and on budget, which makes things easier for both the client and the Web design company.
Meet with Just the Project Manager for Small, Simple Projects
For a relatively small or straightforward Web design project, meeting only with the project manager is the best way to proceed. Trying to accommodate the schedules of an entire team can actually lead to delays. And communicating with just one person makes for clearer understanding.
If your project has a well-defined scope and short timeline, meeting with just the project manager is the best way to keep it on time and budget. Changes are likely to be few or at least minor, so the project manager can easily communicate these to the rest of the team, streamlining the process and keeping everything on track time-wise.
Meet with the Whole Team on Long, Complex Projects
If your project has an extended timeline (several weeks or even months), several parts, or may change significantly in scope over its course, you'll definitely want to meet with everyone involved in the project. This will give everyone a chance to ask questions and to ensure that they understand the whole project as well as their part in it.
You should still have a project manager to keep an eye on the big picture and for basic, regular communications, but the initial project meeting and occasional check-ins should occur with the whole team.
Associated tags:
Web Design
,
Project Manager
Add Comment: