Congratulations National Pro Staff!
Posted On: December 04, 2014
SWS Client Wins 2014 Ignite Durham Tech Start-up Competition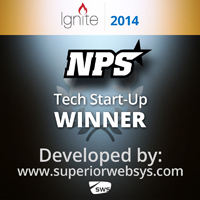 National Pro Staff started just three short years ago with a simple idea: to use the social connectivity of the Web to bridge the gap between general angler and Professionally Sponsored Angler, and to connect brands and consumers in mutually beneficial ways.
To help bring that idea to life, Dan Miguel (CEO) and the team behind NPS came to Superior Web Solutions. Dan and his crew knew all about general and sponsored anglers, and they knew what angling brands and consumers needed. They even had the foresight and imagination to see how the Web could help meet those needs. All they needed then was a partner who knew the Web.
That's where SWS came in. Using our expertise in Web design and development, we were able to make the NPS vision a reality. We created a website where brands can recruit and manage brand ambassadors, consumers can find resources to help them make better buying decisions, and anglers of all persuasions can get information on tournaments, tips, and top trends in equipment.
The site is highly functional and has quickly grown to become the premier site and app for anglers in Canada.
And now, with the Ignite Durham award of $25,000 — and the credibility bestowed by such a title — National Pro Staff looks forward to expanding its US market.
Superior Web Solutions offers its heartfelt congratulations to Dan and the team. We want to thank them for trusting us to bring their vision to life, and we wish them all the best as they build on this incredible success.
Check out www.NationalProStaff.com
Associated tags:
National Pro Staff
Add Comment: